Works
Slideshow
Runo Lagomarsino, A Cloud of Smoke, Galleri Format, Malmö, 2022
1 of 102
Thumbnails
Videos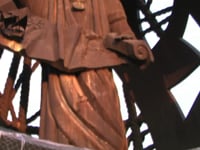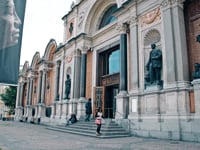 About
The work of Runo Lagomarsino presents alternative perspectives on historical, political and cultural power relationships. Often employing strategies of displacement and transformation to question the writing of history, especially within the context of South America, his installations, sculptures, pictures, and films focus on how today's political and social environment has developed through historical processes, and how this creates metaphors and pictures from which we read history and society.

Lagomarsino's œuvre finds itself within a critical, decolonial project. However, in doing so, he does not primarily seek to tell other stories, or to reveal hidden truths or construct new historical narratives from the perspective of the colonized. Rather, his work aims to recount the same stories in different ways and uncover conflicting dependencies and complex political events without reducing their inevitable ambiguity.

To search for fractures, for blind paths from where to tell other stories, from where to unlearn, and, particularly, from where to read the past and name the future. Born in Sweden to exiled Argentinian parents who descended from Italian émigrés who fled Europe during the First World War, Lagomarsino's biography charts the very colonial histories that his works examines.

Runo Lagomarsino (b. 1977, Lund, Sweden) lives and works between Malmö and São Paulo.

His works have been included in several institutional exhibitions such as A Universal History of Infamy, Los Angeles County Museum of Art (LACMA), Los Angeles (2017); The Restless Earth, Fondazione Trussardi, Milano (2017); Little lower layer, MCA Chicago, Chicago (2017); Really Useful Knowledge, Museo Nacional Centro de Arte Reina Sofía, Madrid (2015); Under the same sun, Guggenheim Museum, New York (2014).

Participated in Prospect.4, New Orleans (2017); 56th Biennale di Venezia, (2015); Gothenburg International Biennial (2015); 12th Biennial of Cuenca (2014); 30th São Paulo Biennial (2012); 12th Istanbul Biennial (2011), among others.

His solo exhibitions include We have been called many names, Nils Stærk, Copenhagen (2017); West is everywhere you look, Francesca Minini, Milan (2016); They Watched Us for a Very Long Time, La Criée Center for Contemporary Art, Rennes (2015); Against My Ruins, Nils Stærk, Copenhagen (2014); We have everything, but that's all we have, Mendes Wood DM, São Paulo, (2013); This Thing Called The State, Oslo Kunstförening, Oslo (2013); Even Heroes Grow Old, Index, The Swedish Contemporary Art Foundation, Stockholm (2012).
CV
Education
2001
BA in Academy of Fine Art Valand, Gothenburg, Sweden
2003
MA in Malmö Art Academy, Malmö, Sweden
2008
Whitney Independent Study Program, New York, USA

Solo Exhibitions
2022
A Cloud of Smoke, Galleri Format, Malmö, Sweden
2021
Tales from the Underworld, Galerie Nordenhake, Berlin, Germany
The Inner Circles, Mendes Wood DM, Brussels, Belgium
The Square between the Waves, Konsthall Lund, Lund, Sweden
2020
I am also smoke, Galerie Nordenhake, Stockholm, Sweden
2019
Runo Lagomarsino – Friends of Moderna Museet 2019 Sculpture Prize, Moderna Museet, Stockholm, Sweden
We believe to be a land and the truth is we are barely a landscape, Kulturparken Småland, Utvandrarnas hus, Växjö, Sweden
We are each other's air, Francesca Minini, Milan, Italy
2018
Concentrations 61: Runo Lagomarsino, EntreMundos, Dallas Museum of Art, Dallas, USA
La Neblina, Galeria Avenida da Índia, Lisbon, Portugal
No element, however has the final word in the construction of the future, Mendes Wood DM, São Paulo, Brazil
2017
We have been called many names, Nils Stærk, Copenhagen, Denmark
2016
West is everywhere you look, Francesca Minini, Milan, Italy
2015
Lacuna, Mendes Wood DM, São Paulo, Brazil
They Watched Us For a Very Long Time, La Criée Centre for Contemporary Art, Rennes, France
2014
Barbro & Holger Bäckströms Award, Malmö Art Museum, Malmö, Sweden
Ears go deeper, than eyes can see, Galleria Umberto Di Marino, Naples, Italy
Against my Ruins, Nils Stærk, Copenhagen, Denmark
2013
For Each Light a Shadow, Ignacio Liprandi Arte Contemporáneo, Buenos Aires, Argentina
The G in Modernity Stands for Ghosts, Mellanrummet, Nils Staerk, Copenhagen, Denmark
This Thing Called the State, Oslo Kunstförening, Oslo, Norway
We Have Everything, but That's All We Have, Mendes Wood DM, São Paulo, Brazil
2012
Even Heroes Grow Old, Index, The Swedish Contemporary Art Foundation, Stockholm, Sweden
U-Turn, Arteba with Nils Stærk, Buenos Aires, Argentina
2011
OtherWhere, Nils Stærk, Copenhagen, Denmark
Hay siempre un día mas lejos, Galeria Luisa Strina, São Paulo, Brazil
Violent Corners, ar/ge kunst Galerie Museum, Bolzano, Italy
Trans Atlantic, Art Statements, Basel, Switzerland
2010
The G in Modernity Stands For Ghosts, Centro de Artes Visuais, Coimbra, Brazil
Between an Imperial system and a Metric System, Present Future, Artissima, Torino, Italy
Horizon (Southern Sun Drawing), Zona Maco, Mexico City, Mexico
Las Casas is Not a Home, Elastic, Malmö, Sweden
2009
Las Casas Is Not A Home, Mummery + Schnelle, London, United Kingdom
2007
Those who control the past command the future – Those who command the future conquer the past, Overgaden, Copenhagen, Denmark
2006
This is no time for saluting flags, Elastic, Malmö, Sweden
2006
Extended Arguments, Gallery Box, Gothenburg, Sweden
2005
Extended Arguments, Gallery Muu, Helsinki, Finland
Där uppgifter saknas beror det på att situationen är oklar, Elastic, Malmö, Sweden
2003
I suppose that sometimes you have to burn the sky, Krognoshuset Aura, Lund, Sweden
In my dreams europe is always less than a metre, Peep art gallery, Malmö, Sweden
2001
Schengenland. (Histories that nothing are), Båstadsgatan 4, Malmö, Sweden

Group Exhibitions
2023
Área Play, Silva Cintra Box, Rio de Janeiro, Brazil
2022
Almond shaped eyes for circles and dots. Circles for eyes and almond shaped dots. Dots and almonds for circles in eyes, Galerie Nordenhake, Mexico City, Mexico
Les quatre points cardinaux sont trois: le sud et le nord, CRAC Alsace, Altkirch, France
Plural Domains. Selected Works from the Cisneros Fontanals Art Foundation Collection, Museo de Arte de Zapopan (MAZ), Zapopan, Mexico
Panorama Monopoli: The Politics of Hospitality, a city-wide exhibition, Monopoli, Italy
TV-trampolinen: Från barn-TV till samtida konst och litteratur, Kalmar konstmuseum, Kalmar, Sweden
2021
Gold and Magic, Arken Museum of Modern Art, Copenhagen, Denmark
We suffered from a desease that only gold can cure, Municipal Art Collections, City Hall - Bologna, Italy
La Place Entre Les Murs, Lunds Konsthall, Lund, Sweden
The TV Trampoline: From Children's Television to Contemporary Art and Literature, Fabrika, Moscow, Russia
Ninguém teria acreditado, Pina Estação, São Paulo, Brazil
Thinking Hands, Touching Each Other, The 6th Ural Industrial Biennial of Contemporary Art, Ekaterinburg, Russia
Plural Domains: Selected Works from the Collection of the Cisneros Fontanals Art Foundation, Harn Museum of Art, Gainesville, USA
Un posto come un altro dove appendere il cappello, Arte Contemporanea Picena, Galleria d'Arte Contemporanea Osvaldo Licini, Ascoli Piceno, Italy
The Ghost Ship and the Sea Change, 11th edition of Gothenburg International Biennial for Contemporary Art, Gothenburg, Sweden
Cuando no hay sombra es mediodía, Nube Gallery, Santa Cruz de la Sierra, Bolivia
Gold and Magic, Arken Museum for Moderne Kunst, Copenhagen, Denmark
2020
No One Would Have Believed, Netwerk Aalst, Aalst, Belgium
And That Song Is Our Amulet, Galerie Wedding, Berlin, Germany
Entangled_Paperworks, Nils Stærk, Copenhagen, Denmark
CONSTRUÇÃO, Mendes Wood DM, São Paulo, Brazil
Transocean Express, Galeria Presença, Porto, Portugal
Puro e disposto a salire a le stelle, Galeria Massimo Minini, Brescia, Italy
Fucking Boring, Galleri 21, Malmö, Sweden
2019
No habrá nunca una puerta. Estás adentro. Works from the Coleção Teixeira de Freitas, Fundación Banco Santander, Madrid, Spain
Du signe à l'écriture, Musée des Beaux-Arts de Brest, France
Lo que permanece. Colección FEMSA, Museo del Pueblo de Guanajuato y la Galería Hermenegildo Bustos de la Universidad de Guanajuato, Guanajuato, Mexico
Migration: Traces in an Art Collection, Malmö Konstmuseum, Malmö, Sweden
International Museum of Resistance 1978-2020, Södertälje Konsthall, Södertälje, Sweden
This Is Not an Apricot, SixtyEight Art Institute, Copenhagen, Denmark
The Warmth of Other Suns: Stories of Global Displacement, The Phillips Collection, Washington, USA
Deep Sounding - History as Multiple Narratives, daadgalerie, Berlin, GermanyIF YOU DON'T LIKE ART… Nordic Contemporary Art Collection, Kristianstads konsthall, Kristianstad, Sweden
The Great Globe, Art Quarter Budapest, Hungary
Null Island, AAIR, Antwerp, Belgium
Migration: spår i en konstsamling, Tensta Konsthall, Stockholm, Sweden
2018
Algorithm, Obra, Malmö, Sweden
Plural Domains: Selected works from the CIFO collection, XIV Cuenca Biennial, Museo de la Ciudad, Cuenca, Ecuador
Yoko Ono. Universo Libre, Museo de Arte de Lima, Lima, Peru
Temporalidades. Arte latinoamericano. Colección FEMSA, Museo de Arte e Historia de Guanajuato, León, Mexico
Grandes Artistas Latinoamericanos. Colección FEMSA, Centro Cultural La Moneda, Santiago de Chile, Chile
From where I stand, my eye will send a light to you in the North, Te Tuhi, Auckland, New Zealand
Caixa Preta, Fundação Iberê Camargo, Porto Alegre, Brazil
Per_formare una collezione. The Show Must Go_ON / Per un archivio dell'arte in Campania, Madre, Naples, Italy
Nunca fuimos contemporáneos, La XIII Bienal FEMSA, Zacatecas, Mexico
Transit, KØS Museum of Art in Public Spaces, Køge, Denmark
Black Mirror, Mario Mauroner Contemporary Art Salzburg-Vienna, Austria
Ett år i Länstidningen, Konstfrämjandet Jämtland, Östersund, Sweden
BRAZIL. Knife in the Flesh, Padiglione d'Arte Contemporanea, Milan, Italy
2017
A Universal History of Infamy, Los Angeles County Museum of Art (LACMA), Los Angeles, USA
An Image in Light : The History of Projected Photography, Musée de l'Elysée, Lausanne, Switzerland
Little lower layer, MCA Chicago, Chicago, USA
Displacement Prologue, Bureau des Réalités, Brussels, Belgium
Nada levarei quando morrer, aqueles que me devem cobrarei no inferno, Galpão VideoBrasil, São Paulo, Brazil
Frammenti di Paradiso, Church San Giuseppe a Pontecorvo, Naples, Italy
La Terra Inquieta, Palazzo della Triennale, Milan, Italy
Io sono qui!, Museo Marco Testaccio, Rome, Italy
Is This the Time for Art?, Örebro Konsthall, Örebro, Sweden
Prospect.4: The Lotus in Spite of the Swamp, Prospect New Orleans, New Orleans, USA
Monumentos, anti-monumentos y escultura pública, Museo del Chopo, Mexico City, Mexico
Show and Tell, Malmö Konstmuseum, Malmö, Sweden
Condemned To Be Modern, Los Angeles Municipal Art Gallery, Los Angeles, USA
Lives Between, The Center for Contemporary Art, Tel Aviv, Israel
Gridded Currents, Kukje Gallery, Seoul, South Korea
#ideasforawall #undoingwalls, Alberta College of Art and Design, Calgary, Canada
Slow Violence. Tracing the Anthropocene History, Kunsthal Charlottenborg, Copenhagen, Denmark
little lower layer, MCA Chicago, Chicago, USA
Wer ist noch österreichisch?, Kunst Meran, Merano, Italy
Neither., Mendes Wood DM, Brussels, Belgium
Canibalia, Hangar, Lisbon, Portugal
Monumentos, anti-monumentos y escultura pública, Museo de Arte de Zapopan, Guadalajara, Mexico
Lives Between, KADIST Foundation, San Francisco, USA
Almost There, Vargas Museum, Manila, Spain
Point of Departure, Sala de Arte Santander, Madrid, Spain
Displacement (Prologue), Bureau des Réalités, Brussels, Belgium
2016
Only in the Western World, Mario Mauroner Contemporary Art, Vienna, Austria
Yoko Ono: Dream Come True, Malba, Buenos Aires, Argentina
Museet För Glömska, Skånes Konstförening, Malmö, Sweden
Nur im Okzident, Mario Mauroner Contemporary Art, Vienna, Austria
The winter of our discontent, Galerie Martin Janda, Vienna, Austria
Malmös Leeende, Statens Konstråd, Malmö, Sweden
Descent, Institute of Contemporary Art, Philadelphia, USA
THE APPEL-HAKEN PROOF, Vermilion Sands, Copenhagen, Denmark
Depois do Futuro, Parque Lage, Rio De Janeiro, Brazil
Under the Same Sun, Museo Jumex, Mexico City, Mexico
Is This the Time for Art?, Skånes Konstförening, Malmö, Sweden
The Artist, Moderna Museet, Malmö, Sweden
The Artist, Nationalmuseum Stockholm and Moderna Museet, Malmö, Sweden
2015
Carla Zaccagnini / Runo Lagomarsino, Malmö Konsthall, Malmö, Sweden
A story with in a Story, Gothenburg International Biennal for Contemporary Art, Gothenburg, Sweden
All the World's Futures, the 56th edition of the Biennale di Venezia, Venice, Italy
The Migrant (Moving) Image, A Tale of a Tub, Amsterdam, The Netherlands
Dérive Dérivée, Fondation Cab, Brussels, Belgium
United States of Latin America, Museum of Contemporary Art Detroit, Detroit, USA
Southern Panoramas, 19th Contemporary Art Festival Sesc_Videobrasil, São Paulo, Brazil
Grito de Libertad, Bienal Internacional de Asunción, Asunción, Paraguay
The Monochrome Symphony – Single-colored Constellations of Art, Design, Fashion and Music, Artipelag, Stockholm, Sweden
Ophelia, Della muta eloquenza, Artopia Gallery, Milan, Italy
The Coming Museum, Fórum Eugénio de Almeida, Évora‏, Portugal
CANIBALIA, KADIST Foundation, Paris, France
Symphonic Node, Pick nick, Paleomylos, Cyprus
2014
Really Useful Knowledge, Museo Nacional Centro de Arte Reina Sofía, Madrid, Spain
Mark the Line, Göteborgs Konsthall, Gothenburg, Sweden
We Hate In Order to Survive, InterArt Center, Malmö, Sweden
Ir para volver – Leaving To Return, 12th Bienal de Cuenca, Cuenca, Ecuador
Under the Same Sun, The Guggenheim Museums and Foundation, New York, USA
Beyond the Supersquare, The Bronx Museum, New York, USA
Idea of Fracture, Francesca Minini, Milan, Italy
Crítica de la razón migrante, La Casa Encendida, Madrid, Spain
Der Leone Have Sept Cenbeças, CRAC Alsace, Altkirch, France

Forms of Distancing. Representative Politics and the Politics of Representation, Palais Wildenstein, Graz, Austria
Menagerie, or Artwork Not about Love, Elaine L. Jacob Gallery, Wayne State University in Detroit, Michigan, USA
Liberdade em movimento, Fundação Iberê Camargo, Porto Alegre, Brazil
Pergamon (A Place in Things) Incandescent bulbs, Pergamon Museum, Berlin, Germany
2013
For No Apparent Reason, Centro de Arte Dos de Mayo, Madrid, Spain
Del Buen Salvaje al Conceptual Revolucionario: Mitos y Realidades de America Latina, Travesia 4, Madrid, Spain
Conversation Pieces, Neuer Berliner Kunstverein, Berlin, Germany
Contra Escambos, Palácio das Artes, Belo Horizonte, and Espaço Fonte, Recife, Brazil
The Nordic Modell, Malmö Konstmuseum, Malmö, Sweden
Nuevos Vínculos Hacienda la Trinidad, Parque Cultural, Caracas, Venezuela
Landscape and the Contemporary Romantic, Kunstverein Springhornhof, Neuenkirchen, Germany
The Crisis of Confidence, Victoria Art Center, Bucarest, Romania
Meeting Points 7: Ten Thousand Wiles and a Hundred Thousand Tricks, M HKA, Antwerp, Belgium,
Para Site, Hong Kong and Beirut Art Center, Beirut, Lebanon
Spaces of Action, part of Trienal de Arquitectura, Lisbon, Portugal
Victor, A, Judge William, Johannes (de silentio), Constantin, Vigilius, Nicolaus, Hilarius, Johannes (Climacus), H.H., Anti-Climacus et. al., Fotografisk Center, Copenhagen, Denmark
Musée Imaginaire, part of Drawing Now, Paris, France
X-Border Art Biennial, Luleå, Sweden
Selection of works / touring exhibition from The 30th São Paulo Biennial - The Imminence of Poetics, Palácio das Artes, Belo Horizonte, Brazil
2012
The Future that Was, SMART Project Space, Amsterdam, The Netherlands
Princípios Flexor, Gramatura, São Paulo, Brazil
Salvajes-Digesting Europe Piece by Piece, Tranen Space for contemporary art, Copenhagen, Denmark
Show off, Malmö Konsthall, Malmö, Sweden
Iemanjá Claus, Mendes Wood DM, São Paulo, Brazil
F for Freedom, Galeria Filomena Soares, Lisbon, Portugal
30th São Paulo Bienal – The Imminence of Poetics, São Paulo, Brazil
The Unexpected Guest, Liverpool Biennal, Liverpool, United Kingdom
Unfinished Journeys, The National Museum of Norway, Museum of Contemporary Art, Oslo, Norway
From the closed world to the infinte universe, Le Quartier, Quimper, France
Posters, Souvenirs and other stuff, The Armory Show, New York, USA
A man is walking down the street. At a certain moment, he tries to recall something, but the recollection escapes him. Automatically, he slows down, Cristina Guerra, Lisbon, Portugal
A revolução tem que ser feita pouco a pouco - Parte III: Estratificacao e ruptura - O processo como forma and Parte IV: A revolução, Galeria Raquel Arnaud, São Paulo, Brazil
The Way of the Worlds, FRAC Lorraine, Metz, France
Fútbol - Arte y Pasión, Museo de Arte Contemporáneo de Monterrey, Monterrey, Mexico
Le Prince des Rayons, Galerie VidalCuglietta, Brussels, Belgium
Utopraxia, The Art Foundation (TAF), Athens, Greece
Unfinished Journeys, The National Museum of Norway, Oslo, Norway
2011
Responding To the New Moon: Prologue, Galerie Tanja Wagner, Berlin, Germany
Victims and Martyrs, Göteborgs Konsthall, Gothenburg, Sweden
Landscape and Memory, Patrick Heide Contemporary Art, London, United Kingdom
Mutual Matters, Konsthall C, Stockholm, Sweden
The Walls That Divide Us, ApexArt, New York, USA
A Política do Cotidiano, Itaú Cultural, São Paulo, Brazil
Untitled, 12th Istanbul Biennial, Istanbul, Turkey
Speech Matters, Danish Pavilion at the 54th Venice Biennale, Venice, Italy
The Third Sculpture, Straat Van Sculpture, Amsterdam, The Netherlands
The Crisis of Confidence, Prague Biennale 5, Prague, Czech Republic
Guest Nation Brazil...Tudo è, Fondazione Pitti, Florence, Italy
The Future Generation Art Prize @Venice, Collateral Event of the 54th Venice Biennale, Venice, Italy
Tracks New acquisitions in Malmö Art Museums collection, Malmö Konstmuseum, Malmö, Sweden
Angry The Representation of Radicalisation Netherlands, Nederlands Fotomuseum, Rotterdam, The Netherlands
Stories in Between, Stiftelsen 3,14 – International Contemporary Art Foundation, Bergen, Norway
2010
The Future Generation Art Prize, Pinchuk ArtCentre, Kiev, Ukraine
The Moderna Exhibition, Moderna Museet, Stockholm, Sweden
Notes on Memory, IG Bildende Kunst, Vienna, Austria
The Philosophy of Money, Museu de Lisboa, Lisbon, Portugal
The Traveling Show, Museo Jumex, Mexico City, Mexico
Tristes Tropiques, The Barber Shop, Lisbon, Portugal
One Shot ! Football and Contemporary Art B.P.S.22, Space for Contemporary Creation, Charleroi, Belgium
In Transition: 2010 CIFO Grants & Commissions Program Exhibition, The Cisneros Fontanals Art Foundation, Miami, USA
Monkey See Monkey Do, Centro Cultural Montehermoso Kulturunea, Vitoria, Spain
Vectors of the Possible, BAK, Utrecht, The Netherlands
Freeze, Nils Stærk, Copenhagen, Denmark
All That Is Solid Melts into Air: The Social at the Berardo Collection, Museu Colecção Berardo, Lisbon, Portugal
The Horizon Line Is Here (Tornare Per Partire), Umberto di Marino Gallery, Naples, Italy
2009
Free as Air and Water, Cooper Union, New York, USA
Mamõyguara opá mamõ pupé – Panorama da Arte Brasileira, Museu De Arte Moderna de São Paulo, São Paulo, Brazil
Report on Probability, Kunsthalle Basel, Basel, Switzerland
Read Thread A Prologue, 11th International Istanbul Biennale Tanas, Berlin, Germany
A Space on the Side of the Road, Röda Sten Konsthall, Gothenburg, Sweden
2nd Trienal Poli/Gráfica of San Juan: América Latina y el Caribe, San Juan, Argentina
THIS IS NOT AMERICA, El Descanso del Guerrero, San Juan, Argentina
Changing Light Bulbs In Thin Air, Hessel Museum of Art, New York, USA
Notes from The Living Dead Museum, The Living Art Museum, Reykjavik, Iceland
Photography Now: 2009, Centrum för Fotografi, Stockholm, Sweden
Delocalisation, Exit Project Space, Skopje, Macedonia
This Is the Score, Part II, Elastic, Malmö, Sweden
Risk - Luleå Art Biennale, Luleå, Sweden
Posted 4: Private Talk - Public Space, Cork, Ireland
2008
Between the Images - Imaginable Experiences for Future Memories, Exposeptember/ IASPIS Galleriet, Stockholm, Sweden
Ours: Democracy in the Age of Branding, New School, Parsons, New York, USA
Salon of the Revolution, HDLU - The House Of Artists, Zagre, Croatia
Try again, fail again,fail better, Műcsarnok Kunsthalle, Budapest, Hungary
no no no no no no no no no no no no there's no limit, Signal, Malmö, Sweden
Annual Report: A Year in Exhibitions, 7th Gwangju Biennale, Gwangju, South Korea
Farewell to Post-Colonialism - The Third Guangzhou Triennial, Guangdong, China
TINA B - The Prague Contemporary Art Festival, Prague, Czech Republic
AutoStop, Malmö Konsthall, Malmö, Sweden
Art Reclaims Foreign Affairs, Ljubljana, Slovenia
Whitney Independent Study Program Exhibition, New York, USA
Out of Place, Cinemateket, Stockholm, Sweden
2007
Movement, Contingency, Community Gallery 27, Kaywon School of Art & Design Seoul, Seoul, South Korea
Hope is a good thing, Atelierfrankfurt, Frankfurt, Germany
Imagine Action, Lisson Gallery, London, United Kingdom
Heterotopias - 1st Thessaloniki Biennalen, Thessaloniki, Greece
I Want to be Able to See What It Is, Lunds Kunsthall, Lund, Sweden
Ground Lost, Galerija Nova, Zagreb and Forum StadtPark, Graz, Austria
2006
Time Space and Disorientiation, Borgovico33, Como, Italy
We all laughed at Christopher Columbus, Garanti Contemporary Art Center, Istanbul, Turkey
Out of Sight, Gallery Verkligheten, Umeå, Sweden
Posters for Re-making the World, Ynkb, Copenhagen, Denmark
Should I Stay or Should I Go? On Secondary Cities, Rum 46, Aarhus, Denmark
2005
Malmö Art Academy 10th Anniversary, Rooseum, Malmö, Sweden
2004
Minority Report: Challenging Intolerance in Contemporary Denmark, Aarhus, Denmark
2003
Look Into The Future – And Understand Why, Iaspisgalleriet, Stockholm, Sweden
Go, Liquidacion Total, Madrid, Spain
After the Future - 10th Biennial of Moving Images, Centre for Contemporary Images, Saint-Gervais Genève, Geneva, Switzerland
2001
To Accept, Folkets Hus, Malmö, Sweden

Collections
Cisneros Fontanals Art Foundation
The Coppel Collection
Fondazione Morra Greco
Guangdong Museum of Art
The Guggenheim Museums and Foundation
Kiasma
Lund City Art Collection
Malmö Konstmuseum
Moderna Museet
The National Museum of Norway
Nomas Foundation
Nordic Contemporary Art Collection
Collection Paulo A. W. Vieira
Sveriges Allmänna Konstförening
Collection Teixeira de Freitas


Awards
2019
Moderna Museets Vänners Skulpturpris 2019, Sweden
2014
Barbro & Holger Bäckströms Award, Malmö, Sweden
2005
Asse & Richard Björklunds fond, Malmo Art Museum, Sweden
Lunds Konsthalls Vänner, Sweden