作品
幻燈片
Sofia Borges, 33rd São Paulo Biennial – Affective Affinities: The Infinite history of things or the end of the tragedy of One, São Paulo, 2018
1 的 41
縮略圖
視頻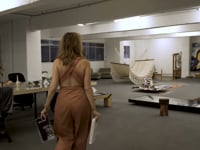 關於
Sofia Borges is a conceptual artist who – for the past fifteen years – has been using photography to investigate philosophical notions around the relationship between matter, image and meaning. Considered one of the most pivotal Brazilian contemporary artists of her generation, in the first seven years of her career Borges developed a large and resounding body of works exploring photography and the expanded philosophical understanding of images. Following on from this, in the last five years, she began to produce installations and intricate practices that exercise the idea of a total artwork via complex curatorial projects and performances. More recently, she has also incorporated assemblage and painting into her image research. In 2016, she published The Swamp, an award-winning book-artwork that celebrates her first philosophical phase. In 2018, she co-curated the São Paulo Biennial, for which she put together a complex curatorial proposal in the form of a tragedy, which occupied an entire floor in the Biennial Pavilion. In 2021, Borges wrote and directed her first film The Fossil, the Eye and the Fire – the second act in her book-artwork – in which she investigates the relationship between biography, and the thinking and work that happens in the studio.

For seven years, she lived between São Paulo and Paris, dedicating herself to the research of pre-historical caves, as well as working at myriad art museums and paleontological and archeological research centers. After this crucial period living between Central Europe and Brazil, and photographing caves, museums, and natural history research centers, Borges began to spend extended periods of time in Greece, studying alchemy, mythology and theater. During this second phase in her career, the artist deepened her research into the relationship between culture and meaning and its modes of representation, such as the frameworks of religions, myths and theater, unfolding an intense dialogue between myth and matter, the material and the metaphysical.

In 2022, after being selected for the Jerusalem International Fellows in the US, the artist spent three months in Jerusalem, where she investigated the tragic and the sublime, focusing on the representation of sacred spaces. She also worked with Palestinian youth groups in collaboration with the Jewish institution. At the end of 2022, the artist moved to New York.

Sofia Borges (1984, Brazil) lives and works between São Paulo and Paris.

Sofia Borges is represented by Kandlhofer in Vienna and Mendes Wood DM in São Paulo, New York and Brussels. Her work belongs to important international collections such as The Museum of Modern Art (MoMA) and Foam FotografieMuseum, as well as all the major institutional collections in Brazil, such as MASP, Pinacoteca de São Paulo, IMS, MAM SP, and Prêmio Pipa, amongst others.

Since the beginning of her career, Borges has been awarded several international and Brazilian prizes and other forms of recognition and has worked with a number of institutions and galleries across the world, such as in her recent duo-show with Edgar Degas at MASP and installations at MAR, Instituto Moreira Salles, and Nottingham Contemporary, as well as exhibitions linked to the Foam Talent Prize in Berlin and Amsterdam. Her works have traveled to many different countries, including Belgium (Mendes Wood DM, 2021); Austria (Kandlhofer Galerie, 2016/2020); South Korea (Daegu Arts Center, 2018); Greece (Float Gallery, 2017); Netherlands (Foam Fotografiemuseum, 2016); UK (Photo London, 2016, Nottingham Contemporary, 2022); France (White Project Galerie, 2015/2014; amongst others); USA (MOMA, 2018 and Steve Turner Gallery, 2014); China (Shanghai, Galeria Intelligentsia, 2014); Mexico (Galeria OMR, 2013); Portugal (Museu Coleção Berardo, 2013); and Spain (Galeria The Goma, 2013). In 2018, she co-curated the 33rd São Paulo Biennial with the a curated tragic play called The Infinite History of Things or The End of the Tragedy of One.
履历
Solo Exhibitions
2020
Degas, MASP, São Paulo, Brazil
2019
Mendes Wood DM, São Paulo, Brazil
2017
No Mold For White But No Mold For Fire, Float Gallery, Athens, Greece
2016
Black Chalk and White Charcoal or The Myth of The Absent Matter, Foam Fotografiemuseum, Amsterdam, Netherlands
The Swamp, Photo London, Mack Stand, London, UK
Sound, Shape and Meaning, Kandlhofer Gallery, Vienna, Austria
2015
I Don't Know I'm the Author I Can't Say I'm Looking, White Project Galerie, Paris, France
2014
The Philosopher's Photocopy | Theo Michael and Sofia Borges, Steve Turner Contemporary, Los Angeles, USA
2013
Les Artifices, White Project Galerie, Paris, France
Os Nomes, BES-Photo Award | Instituto Tomie Ohtake, São Paulo, Brazil
Impossível, Galeria Millan, São Paulo, Brazil
Os Nomes, BES-Photo Award | Museu Berardo, Lisbon, Portugal
Paralaje | Pablo Accinelli and Sofia Borges, Galeria The Goma, Madrid, Spain
Reincidencia y Paradigma, Galeria OMR, Mexico City, Mexico
2012
Estudo Para Ausência – 30ª Bienal de São Paulo: A Iminência das Poéticas, Pavilhão da Bienal, São Paulo, Brazil
Tema, Centro Cultural São Paulo, São Paulo, Brazil
2011
Tema, Museu do Estado de Pernambuco, Recife, Brazil
Estudo da Paisagem, Galeria Artur Fidalgo, Rio de Janeiro, Brazil
Pré-História, Galeria Virgílio, São Paulo, Brazil
2010
Recalque, Casa de Cultura UEL, Londrina, Brazil
2009
Ambas, Centro Cultural São Paulo, São Paulo, Brazil
Sofia Borges | Portraits and Self-portraits, Centro Cultural da Justiça Federal, Rio de Janeiro, Brazil
Sedimentos, Galeria Virgílio, São Paulo, Brazil
Sofia Borges, Museu de Arte de Ribeirão Preto, Ribeirão Preto, Brazil
2008
Sofia Borges FOTOGRAFIAS, Centro Universitário Maria Antônia, São Paulo, Brazil

Group Exhibitions
2023
Elzéard Bouffier, TheMerode, Brussels, Belgium
2021
Imagens que não se comportam, MAR – Museu de Arte do Rio, Rio de Janeiro, Brazil
2018
Il Coltello Nella Carne, Padiglione d'Arte, Contemporanea (PAC), Milano, Italy
7th Daegu Photo Biennale, Daegu Arts Center, Daegu, South Korea
Being: New Photography, The Museum of Modern Art, New York, USA
CORPO A CORPO: a disputa das imagens, da fotografia à transmissão ao vivo, Instituto Moreira Salles, Rio de Janeiro, Brazil
2017
CORPO A CORPO: a disputa das imagens, da fotografia à transmissão ao vivo, Instituto Moreira Salles, São Paulo, Brazil
A Bela e A Fera, Galeria Central, São Paulo, Brazil
The Post, Swamp, Brazilian Book Launch, Feira Plana, São Paulo Biennial Pavilion, São Paulo, Brazil
2016
#4 Sofia Borges + Federico Clavarino, LDS Gallery, Reggio Emilia, Italy
2015
Imagine Brazil, DHC, Montreal, Canada
A to Z, White Project Galerie, Paris, France
Arte Atual Festival, Instituto Tomie Ohtake, São Paulo, Brazil
Rêve Caverne/Art contemporain & préhistoire, Château Musée, Tournon, sur, Rhône, France
De Mineralis, pierres de visions, Institut d'art contemporain, Villeurbanne/Rhône, Alpes, France
Imagine Brazil, Instituto Tomie Ohtake, São Paulo, Brazil
NO SOUND, Galeria Millan, construction site, São Paulo, Brazil
ID, Retrato Contemporâneo por Artistas Brasileiras , Festival Paraty em Foco, Paraty, Brazil
O Tempo da Duração, Rio de Janeiro, Brazil
38º Salão de Arte Luiz Sacilotto, Paço Municipal, Santo André, Brazil
2009
Trilhas do Desejo, Rumos Itaú Cultural, Itaú Cultural, São Paulo, Brazil
Porto Seguro Fotografia, Espaço Porto Seguro, São Paulo, Brazil
10º Salão Vitor Meireles, Museu de Arte de Santa Catarina, Florianópolis, Brazil
2008
Menos Vinte Um, Paço das Artes, São Paulo, Brazil
Arte Pará, Fundação Rômulo Maiorana, Belém, Brazil
Brasil BR, Galeria Virgílio, São Paulo, Brazil
Marcelo Amorim and Sofia Borges, Ateliê 397, São Paulo, Brazil
33º SARP, Museu de Arte Contemporânea de Ribeirão Preto, Brazil
11º Bienal de Santos, Centro de Cultura Patrícia Galvão, Santos, Brazil
Museu de Arte Contemporânea de Jataí, Jataí, Brazil
36° Salão de Arte Luiz Sacilotto, Paço Municipal, Santo André, Brazil

Awards
2017
Bolsa de Fotografia ZUM/IMS, São Paulo, Brazil
2016
First Book Award, London, UK
2015
Prêmio Pipa, nominated (Professional Investiment Art Award), Brazil/UK
2014
Prêmio Pipa, nominated (Professional Investiment Art Award), Brazil, UK
Paul Huf Award, Brazilian nominee, Amsterdam, Netherlands
2013
Paul Huf Award, Brazilian nominee, Amsterdam, Netherlands
BES-PHOTO Photography Award, nominated artist, Lisbon, Portugal
2012
Programa de Fotografia, Centro Cultural São Paulo, São Paulo, Brazil
2010
Paul Huf Award 2010, Brazilian nominee, Amsterdam, Netherlands
Red Bull House of Arts, Art Residency, São Paulo, Brazil
Prêmio Pipa, nominated (Professional Investiment Art Award), Brazil/UK
2009
47° Salão de Artes Plásticas de Pernambuco, Pernambuco, Brazil
Fundação Iberê Camargo, Prize for Outstanding, São Paulo, Brazil
Porto Seguro Photography Award, Contemporary Research Prize, São Paulo, Brazil
2008
36º Salão de Arte Contemporânea Luiz Sacilotto, Santo André, Brazil
33º SARP, Museu de Arte Contemporânea de Ribeiro Preto, Ribeirão Preto, Brazil
2007
8º Salão Elke Hering, Blumenau, Brazil

Curatorial Projects
2018
33rd São Paulo Biennial [affective affinities] – The Infinite history of things or the end of the tragedy of One, São Paulo Biennial Foundation, Ciccillo Matarazzo Pavilion, São Paulo, Brazil
2015
NO SOUND, Galeria Millan, São Paulo, Brazil