作品
幻燈片
Rendez-vous, Willet-Holthuysen House, Amsterdam, 2022
1 的 69
縮略圖
視頻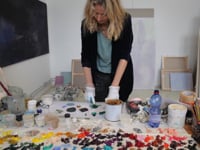 關於
The subject matter of Maaike Schoorel's paintings is drawn from familiar experiences and everyday encounters. Schoorel uses the immediacy of photography to gather source material for her paintings that are, in turn, rooted in the art-historical genres of landscape, portrait and still life.

In order to decode the subjects concealed in Schoorel's brushwork, her audience must adopt a slower approach to looking that allows space to combine visual perception with the imagination. Descriptive titles seem to mislead the viewer who is initially confronted with an illusion of abstraction whose contents hover in a melée of colors. Schoorel's paintings ask that we remain present within the experience of looking and understanding - resisting the need for immediate image-gratification that prevails within the circulation of images we encounter day-to-day. What is eventually presented through this sustained contemplation is neither the immediacy of the photographic snapshot or the labor of a restaged scene. Instead, Schoorel's work gives space for her subjects to reveal themselves and to be reinterpreted in the mind of the beholder.


Maaike Schoorel (b. 1973, Santpoort, The Netherlands) lives and works in Amsterdam.

Her solo exhibitions include Rendez-vous, Willet-Holthuysen House, Amsterdam (2022); All About the Animal, Mendes Wood DM, São Paulo (2021); Maaike Schoorel at Van Wassenhove House, Museum Dhondt-Dhaenens, Deurle (2020); London | New York | Rome | Amsterdam, Gemeente Museum, The Hague (2017); Conversation Piece Part 2, Fondazione Memmo, Rome (2016); Maaike Schoorel, Frans Hals Museum, Haarlem (2012); Maaike Schoorel - Zelfportretten & Stillevens, The Embassy of the Kingdom of the Netherlands, London (2011); and Album, Frans Hals Museum - Hal, Haarlem (2008).

Her group shows include Inner Spaces, The 7th Biennial of Painting - Inner Spaces, Museum Dhondt-Dhaenens, Deurle (2020); Chapter 3HREE, Het HEM, Zaandam (2020); Binnenshuis, Mendes Wood DM, Brussels (2020); Garden of Earthly Delights, Gropius Bau, Berlin (2019); Art & Science Dialogues with Maarten Wijntjes, VSAC, Leuven (2019); Rumoer in de Stad, Gemeente Museum, The Hague (2017); The future is already here – it's just not evenly distributed, 20th Sydney Biennale, Sydney (2016); Hollandse Meesters in de 21e eeuw, EYE filmmuseum, Amsterdam (2016); Salon Hang, Kunstverein Amsterdam, Amsterdam (2015); Landscape: the Virtual, the Actual, the Possible?, Guangdong Times Museum, Guangzhou, Guangdong, touring to Yerba Buena Center for the Arts, San Francisco (2014); How Soon is Now?, Manifesta Foundation & DutchCulture, Amsterdam (2014); Variations: Conversations in and around Abstract Painting, Los Angeles County Museum of Art (LACMA), Los Angeles (2014); Painting Between the Lines, CCA Wattis Institute for Contemporary Art, California College of the Arts, San Francisco (2011); British Art Show 7: In the Days of the Comet, Hayward Touring Exhibitions (2010); and Eyes Wide Open – New to the Collection, Stedelijk Museum, Amsterdam (2008).

Schoorel recently returned to Amsterdam, having spent many years living in London, New York, Rome and Berlin. She has undertaken residency programmes at the Van Wassenhove House, Deurle (2020); KNIR, Rome (2016), organized by The Royal Netherlands Academy of Arts and Science; American Academy in Rome (2015-2016); and ISCP New York (2012).
履历
Education
2001
MA at Royal College of Art, London, United Kingdom
1998
BA at Gerrit Rietveld Academy, Amsterdam, The Netherlands
1997
Michaelis School of Fine Art, Cape Town, South Africa (exchange with Gerrit Rietveld Academy)


Solo Exhibitions
2023
Fulcrum, Maureen Paley, London, United Kingdom
2022
Rendez-vous, Willet Holthuysen-House, Amsterdam, The Netherlands
2021
All About the Animal, Mendes Wood DM, São Paulo, Brazil
2020
Maaike Schoorel at Van Wassenhove House, Museum Dhondt-Dhaenens, Deurle, Belgium
2019
Leeway, reflection on Guy Mees, Sofie van de Velde, Antwerp, Belgium
2018
Cactus Flower, Clouds & Kiss, Stigter van Doesburg, Amsterdam, The Netherlands
2017
London | New York | Rome | Amsterdam, Kunstmuseum Den Hague, The Hague, The Netherlands
Maaike Schoorel, Stigter van Doesburg, Amsterdam, The Netherlands
2016
Gradient, Marc Foxx, Los Angeles, USA
Conversation Piece Part 2: Maaike Schoorel, Fondazione Memmo, Rome, Italy
2015
Sub-Lo, Maureen Paley, London, United Kingdom
2014
Interiors, Stigter Van Doesburg, Amsterdam, The Netherlands
2013
Conservatory, Mendes Wood DM, São Paulo, Brazil
2012
En De Oude Meesters, Frans Hals Museum, The Hague, The Netherlands
Tribute, Maureen Paley, London, United Kingdom
2011
Maaike Schoorel - Zelfportretten & Stillevens, The Embassy of the Kingdom of the Netherlands, London, United Kingdom
zwart / wit dagboek, Galerie Diana Stigter, Amsterdam, The Netherlands
Maaike Schoorel, Marc Foxx, Los Angeles, USA
2009
Nudes and Garden, Marc Foxx, Los Angeles, USA
2008
Album, Museum de Hallen, The Hague, The Netherlands
Nudes, Maureen Paley, London, United Kingdom
2007
Stilleven, Portret, Schutterstuk, Marc Foxx: West Gallery, Los Angeles, USA
2006
Bathing dining garden father daughters beach bed, Maureen Paley, London, United Kingdom
2004
Twilight, Galerie Diana Stigter, Amsterdam, The Netherlands
2002
Darling Buds, Stigter Van Doesburg, Amsterdam, The Netherlands


Group Exhibitions
2023
Spark Birds & the Loneliness of Species, Kasteel Wijlre, Wijlre, The Netherlands
Linhas Tortas, Mendes Wood DM, São Paulo, Brazil
Fine Fleur, De Omstand, Arnhem, The Netherlands
2022
Bonfire of Rythms, Kunstplatform de Apotheek, Amsterdam, The Netherlands
Di semplicità e di brivido, P420, Bologna, Italy
2021
Kunstmuseum Den Haag, The Hague, The Netherlands
2020
Deeply Rooted – Trees in Dutch Painting, Dordrechts Museum, Dordrecht, The Netherlands
Sgabello Collection: In Search of the Miraculous, Project Space On The Inside, Amsterdam, The Netherlands
Chapter 3HREE, Het Hem, Zaandam, The Netherlands
Binnenshuis, Mendes Wood DM, Brussels, Belgium
The 7th Biennial of Painting - Inner Spaces, Museum Dhondt-Dhaenens, Deurle, Belgium
Labyrinth of Solitude, 56 Henry at Metropolitan Museum, New York, USA
Artichoke for Dinner, Stigter Van Doesburg, Amsterdam, The Netherlands
I am because the other thought about me, Nest, The Hague, The Netherlands
2019
Lacuna, Stigter van Doesburg, Amsterdam, The Netherlands (curated by Maaike Schoorel, with Lisa Oppenheim, Ferdi and Germaine Kruip)
The Garden of Earthly Delights, Gropius Bau, Berlin, Germany
The visual science of art conference 2019, VSAC, Leuven, Belgium
2018
24 kleurplaten, Billytown, The Hague, The Netherlands
Extension Nl, Triumph Gallery, Moscow, Russia
Extension Nl, SMENA, Center of Modern Culture, Kazan, Russia
Lust, Laughter, Liquor, Sofie van de Velde, Antwerp, Belgium
2017
CONDO 2017: Maureen Paley hosting dépendance, Maureen Paley, London, United Kingdom
Abstract Conversations, Rosenfeld Porcini, London, United Kingdom
Rumoer in de stad, Kunstmuseum Den Hague, The Hague, The Netherlands
Anne Collier, William Daniels, Annette Kelm, Carter Mull, David Musgrave, Maaike Schoorel, Marc Foxx, Los Angeles, USA
2016
The future is already here – it's just not evenly distributed, 20th Sydney Biennale, Sydney, Australia
Cinque Mostre, American Academy, Rome, Italy
Silence out Loud, Museum Kranenburgh, Bergen, The Netherlands
From a Painters Perspective, Arti et Amicitiae, Amsterdam, The Netherlands
Hollandse Meesters in de 21e eeuw, EYE filmmuseum, Amsterdam, The Netherlands
2015
Marc Foxx, Los Angeles, USA
Silence Out Loud, Museum Kranenburgh, Bergen, The Netherlands
TANTRUM, Le Teinturier De Geest, Brussels, Belgium
A Woman's Hand, Saatchi Gallery, London, United Kingdom
Salon, Kunstverein Amsterdam, Amsterdam, The Netherlands
2014
Landscape: the Virtual, the Actual, the Possible?, Guangdong Times Museum, Guangzhou, Guangdong, China, touring to: Yerba Buena Center for the Arts, San Francisco, USA
Variations: Conversations in and Around Abstract Painting, Los Angeles County Museum of Art (LACMA), Los Angeles, USA
How Soon is Now?, Manifesta Foundation & DutchCulture, Amsterdam, The Netherlands
Windows, Kunsthal KAdE, Amersfoort, The Netherlands
The Peacock, Grazer Kunstverein, Graz, Austria
Maaike Schoorel and Michiel Ceulers, The Arts Club, London, UK
2013
Mind is Outer Space, Casey Kaplan, New York, USA
Reading the Surface, David Zwirner, London, UK
Open Studios Iscp - International Studio & Curatorial Program (ISCP), New York, USA
But The Clouds, Room East, New York, USA
2012
Repeat to Fade, Mendes Wood DM, São Paulo, Brazil
Nothing, Like Something Happens Anywhere, Chapter, Cardiff, Wales, United Kingdom
2011
Museum of Old and New Art, Tasmania, Australia
Saatchi Gallery in Adelaide: British Art Now, Art Gallery of South Australia, Adelaide, Australia
Painted Over/Under, Los Angeles Contemporary Exhibitions (LACE), Los Angeles, USA
Painting Between the Lines, CCA Wattis Institute for Contemporary Art, California College of the Arts, San Francisco, USA
What's Up!, De jongste schilderkunst in Nederland, Dordrechts Museum, Dordrecht, The Netherlands
Next Season, Marc Foxx, Los Angeles, USA
2010
British Art Show 7: In the Days of the Comet, Nottingham Contemporary, Nottingham; Hayward Gallery, London; Glasgow Centre for Contemporary Art, Glasgow; Plymouth Arts Centre, Plymouth, United Kingdom
Newspeak, Saatchi Gallery, London, United Kingdom
Collector's Items No.2: High Drama: Works from the Collection of Hugo & Carla Brown, The Dutch Cultural Pop-Up Space, London, United Kingdom
2009
Visible Invisible: Against the Security of the Real, Parasol Unit, London, United Kingdom
The Other Shore, Dutch Embassy, London, United Kingdom
Obsession: contemporary art from the Lodeveans Collection, University of Leeds, United Kingdom
Fallen out of Space, Mol's place, London, United Kingdom
Long Meg, Vilma Gold, London, United Kingdom
Obsession for Collection, Summerfield Gallery, University of Gloucestershire, United Kingdom
2008
Roger Hiorns, Christina Mackie, Maaike Schoorel, Galerie Diana Stigter, Amsterdam, The Netherlands
Eyes Wide Open – New to the Collection, Stedelijk Museum, Amsterdam, The Netherlands
Nonknowledge, Project Arts Centre, Dublin, Ireland
Wolvecamp Prize, Hengelo, The Netherlands
Hiromi, Yoshii Gallery, Tokyo, Japan
2007
Prix de Rome 2007, de Appel, Amsterdam, The Netherlands
How to Endure, Athens Biennial, Athens, Greece
Very Abstract and Hyper Figurative, Thomas Dane Gallery, London, United Kingdom
Zes, Marc Foxx, Los Angeles, USA
Zes, Harris Lieberman, New York, USA
Double A-Side, Artist's-Hertogenbosch (collaboration between Artis, Centre for Fine Art, Stedelijk Museum's-Hertogenbosch and The Boulevard Theatre Festival), Hertogenbosch, The Netherlands
2006
Just in time, Stedelijk Museum, Amsterdam, The Netherlands
Le Nouveau Siècle, Museum van Loon, Amsterdam, The Netherlands
Vincent van Gogh and Expressionism, Van Gogh Museum, Amsterdam, The Netherlands
2005
Alex Bircken, Mari Eastman, Maaike Schoorel, Maureen Paley, London Slow Art, Museum Kunst Palast, Düsseldorf, Germany
Prague Biennale 2, presentation for Flash Art, Prague, Czech Republic
Two-person show with Nathaniel Mellors, IBID Projects, Vilnius, Lithuania
2004
Must I paint you a Picture?, Haunch of Venison, London, United Kingdom
2003
Someplace Unreachable, IBID Projects, London, United Kingdom
To Avoid the Void, Artwalk, Amsterdam, The Netherlands
2002
Koninklijke Subsidie voor Vrije Schilderkunst, Gemeente Museum, The Hague, The Netherlands
Band in Crisis, (with Skill 7 Stamina 12), Cooper Gallery, Dundee, United Kingdom
Deliberate Regression, Daniel Arnaud Gallery, London, United Kingdom
And Other Love Stories, Galerie Diana Stigter, Amsterdam, The Netherlands


Collections
ABN AMRO Collection
Amsterdam Museum
Centraal Museum
De la Cruz Collection
The Eisler Foundation
THE EKARD COLLECTION
Fiorucci Art Trust
Fondazione Memmo
Frans Hals Museum
Gaia Art Foundation
KADIST Foundation
Kunstmuseum Den Haag
Lodevans Collection
Los Angeles County Museum of Art (LACMA)
Museum of Old and New Art Australia (Mona)
Rabo Art Collection
The Rachofsky Collection
Saatchi Art Collection
Sgabello Art Collection
Stedelijk Museum Amsterdam
Zabludowicz Collection