Works
Slideshow
Ballet triadico 2, 2021, oil, tempera and acrylic on canvas, iron support and bronze sculpture, 260 x 210 cm
1 of 67
Thumbnails
Videos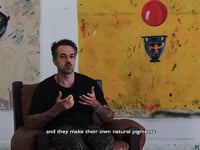 About
The starting point of Paulo Nimer Pjota's works is the nature of collectively originated phenomena. His research and practice focus on an in-depth study of a kind of popular iconography which can only develop through complex processes operated by numerous individuals. We can therefore think of his production as the representation of a plural and agitated dialogue, with ever-changing interpretations, running through multiple streams of consciousness.

The artist usually employs, large un-stretched canvas' and sheets that incorporate detailed renderings of plants, vases, isolated words, cartoon and historical characters. He creates overarching tales within the tension between the freedom of random choice and the precision of a meticulous composition, combining representations in a constellation of suspended bodies. This is when art history and mass culture go hand in hand, as well as universal canons and symbols, everyday banalities and regional themes. More than anything, he is interested in the processes and mechanisms that produce, edit and disseminate human expressions during a time that is dominated by the internet and ultra-communication. Through rhythm, rhyme and repetition, images arise, which index the common perceptions of a globalized planet and, consequently, expose deep inequalities. Questioning the way in which we formulate information and distribute our affections, configuring our sensibilities towards our surroundings and promoting hither to unthinkable possibilities of social interaction.

Paulo Nimer Pjota (São José do Rio Preto, 1988) lives and works in São Paulo.

His most recent solo exhibitions include Every Empire Breaks Like a Vase, The Power Station, Dallas (2021); Cenas de Casa, Caixa de Pandora, Ivani e Jorge Yunes Collection, São Paulo (2019); Medley, Mendes Wood DM, São Paulo (2018); The history in repeat mode — image, Mendes Wood DM, Brussels (2017); The history in repeat mode — symbol, Maureen Paley / Morena di Luna, Hove (2017). Additionally, his work has been included in institutional group exhibitions such as Private Passion - New Acquisitions in the Astrup Fearnley Collection, Astrup Fearnley, Oslo (2019); Trouble in Paradise, Kunsthal Rotterdam, Rotterdam (2019); Sea of Desire, Fondation Carmignac, Porquerolles (2018); Going it is own way, KRC Collection, Voorschoten (2018); The Marvellous Cacophony, Biennal of Contemporary Art Belgrade, Serbia (2018); O Triângulo Atlântico, 11ª Bienal de Artes Visuais do Mercosul, Porto Alegre (2018); Painting |or| Not, The KaviarFactory, Lofoten (2017); Soft Power, Kunsthal KAdE, Amersfoort (2016); 19º Sesc_Videobrasil, São Paulo (2015); Here There, Qatar Museums – Al Riwaq, Doha (2015); Imagine Brazil, Astrup Feranley Museet, Oslo (2013) / DHC/Art Foundation for Contemporary, Montreal (2015); 12 Biennale de Lyon, Lyon (2013).
CV
Education
Bachelor of Visual Arts at Centro Universitário Belas Artes de São Paulo, Brazil
Misguided Painting, by Dora Longo Bahia, Sesc Pompéia
Art Criticism, Francisco Alambert e Polyana Canhete, Sesc Pompéia

Solo Shows
2022
Every Empire Breaks Like a Vase, François Ghebally, Los Angeles, USA
Paulo Nimer Pjota, Maureen Paley, London, UK
2021
Every Empire Breaks Like a Vase, The Power Station, Dallas, USA
Fragmented images, fragmented stories, DEO projects, Chios, Greece
2019
Cenas de Casa, Caixa de Pandora, Ivani e Jorge Yunes Collection, São Paulo, Brazil
2018
Medley, Mendes Wood DM, São Paulo, Brazil
2017
The history in repeat mode — Drama, T293, Rome, Italy
The history in repeat mode — image, Mendes Wood DM, Brussels, Belgium
The history in repeat mode — symbol, Maureen Paley / Morena di Luna, Hove, United Kingdom
2016
Synthesis between contradictory ideas and the plurality of the object as image II, Maureen Paley, London, United Kingdom
Synthesis between contradictory ideas and the plurality of the object as image I, Mendes Wood DM, São Paulo, Brazil
2013
Sistema Relacional, Temporada de projetos – Paço das Artes São Paulo, São Paulo, Brazil
2012
Paulo Nimer Pjota, Mendes Wood DM, São Paulo, Brazil
1º Mostra do programa de exposições Centro Cultural São Paulo 2012, São Paulo, Brazil

Group Shows
2022
Machines of Desire, Simon Lee Gallery, Hong Kong
2021
1981/2021: arte contemporânea brasileira, CCBB, Rio de Janeiro, Brazil
Imagens que não se comportam, MAR – Museu de Arte do Rio, Rio de Janeiro, Brazil
2020
Yellow Opening, Retranchement, Nederlands
What fruits it bears, Peres Projects, Berlin, Germany
2019
Private Passion - New Acquisitions in the Astrup Fearnley Collection, Astrup Fearnley, Oslo, Norway
Entre ruína e construção, Vila Aymoré, Rio de Janeiro, Brazil
Conversas em Gondwana, Centro Cultural São Paulo, Brazil
Trouble in Paradise, Kunsthal Rotterdam, Rotterdam, The Netherlands
Brasil! Focus sull'arte brasiliana contemporanea, Museo Ettore Fico, Turin, Italy
Inner Space/Outer Space, The Bunker, Miami, USA
2018
Nightfall, Mendes Wood DM, Brussels, Belgium
Sea of Desire, Fondation Carmignac, Porquerolles, France
Going it is own way, KRC Collection, Voorschoten, The Netherlands
The Marvellous Cacophony, Biennal of Contemporary Art Belgrade, Serbia
O Triângulo Atlântico, 11ª Bienal de Artes Visuais do Mercosul, Porto Alegre, Brazil
Hybrid Topographies, Deutsche Bank, New York, USA
Depois do fim, antes do começo, Instituto PIPA, Rio de Janeiro, Brazil
Que barra!, Ateliê 397, São Paulo, Brazil
2017
Forever Never Comes – Metabolismo Del Tempo, Museo Archeologico e d'Arte della Maremma, Grosseto, Italy
O Triângulo do Atlântico, Saracura, Rio de Janeiro, Brazil
Painting |or| Not, The KaviarFactory, Lofoten, Norway
Pintura [Diálogo de artistas], Caixa Cultural Rio de Janeiro, Rio de Janeiro, Brazil
O céu ainda é azul, você sabe..., Instituto Tomie Ohtake São Paulo, Brazil
A luz que cela o corpo é a mesma que revela a tela, Caixa Cultural, Rio de Janeiro, Brazil
2016
New Shamans/Novos Xamãs: Brazilian Artists, Rubell Family Collection, Miami, USA
Beyond the Cartoon, ‬ARTUNER‭, ‬New York‭, USA
A not really really, Frédéric de Goldschmidt Collection‭, ‬Brussels, Belgium
Soft Power‭. ‬Arte Brasil‭, ‬Kunsthal KAdE‭, ‬Amersfoort‭, ‬The Netherlands
2015
The World is Made of Stories‭, ‬Astrup Fearnley Museet‭, ‬Oslo‭, ‬Norway
Cidade Inquieta‭, ‬Sesc Rio Preto‭, ‬São José do Rio Preto‭, ‬São Paulo‭, ‬Brazil
Imagine Brazil‭, ‬DHC/Art Foundation for Contemporary‭, ‬Montreal‭, ‬Canada
Ce Fabuleux Monde Moderne‭, ‬MAC-Lyon‭, ‬Lyon‭, ‬France
Imagine Brazil‭, ‬Instituto Tomie Ohtake‭, ‬São Paulo‭, ‬Brazil
19º‭ ‬Festival de Arte Contemporânea Sesc_Videobrasil‭ - ‬Panoramas do Sul‭, ‬Sesc Pompéia‭, ‬São Paulo‭, ‬Brazil
Alimentário‭, ‬OCA‭, ‬São Paulo‭, ‬Brazil
Alimentário‭, ‬Expo Milão‭, ‬Milão‭, ‬Italy
Ponto de Ebulição‭, ‬P.S.M gallery‭, ‬Berlin‭, ‬Germany
Here There‭ (‬Huna Hunak‭), ‬QM Gallery Al Riwaq‭, ‬Doha‭, ‬Qatar
2014
The First And Last Freedom, MOTinternational gallery, London, United Kingdom
Made by... Feito por Brasileiros, Cidade Matarazzo, São Paulo, Brazil
Imagine Brazil, Mac-Lyon, Lyon, France
10 Anos do Prêmio Aquisição, Centro Cultural São Paulo, São Paulo, Brazil
Alimentário, MAM-Rio de Janeiro, Brazil
2013
Chambers à Part, Edition VIII, La Rérseve Paris, Paris, France
Imagine Brazil, Astrup Feranley Museet, Oslo, Norway
Entre-temps... Brusquement, et ensuite, 12e Biennale de Lyon, Lyon, France
2012
Itinerância SESC_Videobrasil, Sesc, São José do Rio Preto, Campinas e Santos, Brazil
Invenção de Paisagem, Sim Galeria, Curitiba, Brazil
2011
Panoramas do Sul, 17 º Festival Internacional de Arte Contemporânea
SESC_Videobrasil, Sesc Belenzinho, São Paulo, Brazil
Sem Limites, Sim Galeria, Curitiba, Brazil
Sem Título #1, Experiências do Pós-Morte, Galeria Oscar Cruz, São Paulo, Brazil
2010
Causas Naturais, Mini Gallery, Belo Horizonte, Brazil
Transfer, Museu Pavilhão das Culturas Brasileiras, São Paulo, Brazil
2009
A.P.E alternative press expo, San Francisco, USA
Paperview, John Jones Limited_Project Space, London, United Kingdom
2008
Fresh Produce, Anno Domini Gallery, San José, USA
Volúvel, Museu de Arte Contemporanêa do Parana, Curitiba, Brazil
Ilegitimo, Paço das Artes, São Paulo, Brazil
2007
1º Salão de Artes de São José do Rio Preto – São José do Rio Preto, Brazil
39° Salão de Artes de Piracicaba, Piracicaba, Brazil
2006
O Novo Muralismo Latino Americano, Galeria Marta Traba, São Paulo, Brazil
Memorial da América Latina, São Paulo, Brazil

Awards
2014
PIPA prize, Online prize by jury
2011
1st Prize Atelie Videobrasil Open
2010
Featured Places Magazine, Camargo Ibere Foundation
2007
1st Arts Hall of São José do Rio Preto – 1st place in the category Art contemporary, São José do Rio Preto, Brazil
2007
39 ° Arts Hall of Piracicaba – prize acquisition of the three works submitted, Piracicaba, Brazil

Awards and Residencies
2018
Civitella Ranieri residence, Perugia, Italy
2014
PIPA prize, Online prize by juryResidência Sacatar, Itaparica, Brazil
Kunsthalle Wiesbaden Work Residence, Wiesbaden, Germany
2013
Veduta, Bienal de Lyon, Grigny, France
2011
1st Prize Atelie Videobrasil / Residência Casa Tomada, São Paulo, Brazil
2010
Featured Places Magazine, Camargo Ibere Foundation, Porto Alegre, Brazil
2007
1st Arts Hall of São José do Rio Preto – 1st place in the category Art contemporary, São José do Rio Preto, Brazil
39 ° Arts Hall of Piracicaba – prize acquisition of the three works submitted, Piracicaba, Brazil

Collections
Rubell Family Collection, Miami, USA
KRC Collection, Voorschoten, The Netherlands
Fondation Carmignac, Porquerolles, France
The Kaviar Factory, Lofoten, Norway
Fundação Pinault, Venice, Italy
Domus Collection, Hong Kong, China
MAC-Lyon, Lyon, France
Astrup Fearnley Museum of Modern Art, Oslo, Norway
Centro Cultural São Paulo, São Paulo, Brazil
Lodoveans Collection, London, United Kingdom
Sesc_Videobrasil, São Paulo, Brazil
Pinacoteca de São José do Rio Preto, Brazil
Pinacoteca de Piracicaba, Brazil