Works
Slideshow
Otobong Nkanga, Underneath the Shade We Lay Grounded, Sint-Janshospiltaal, Bruges, 2022
1 of 107
Thumbnails
Videos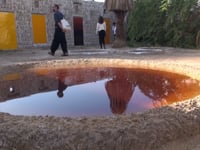 About
Otobong Nkanga studies the social and topographical changes of the environment around her. By exploring the notion of land as a place of non-belonging, Nkanga provides an alternative meaning to the social ideas of identity. Paradoxically, she brings to light the memories and historical impacts provoked by humans and nature. The artist's research unites all of the various components that make up our environment, observing the inherent complexities of resources like soil and earth and their potential values in order to provoke narratives and stories about the land.

As an anthropologist - tracing the violent means by which contested minerals and objects are exhumed from their natural environments – Nkanga places the various occurrences of the colonization process in a contemporary context. By doing this, the artist re-imagines our relationship to our everyday environment, and raises questions about the historical structure of a place, both physically and metaphysically.

Otobong Nkanga (b. 1974, Kano, Nigeria) lives and works in Antwerp, Belgium.

Her most recent solo exhibitions include Underneath the Shade We Lay Grounded, Sint-Janshospiltaal, Bruges, Belgium (2022); Otobong Nkanga, Mendes Wood DM, São Paulo, Brazil (2021); Of Cords Curling around Mountains, Castello di Rivoli, Rivoli (2021-2022), When Looking Across the Sea, do you Dream?, La Villa Arson, Nice (2021), Uncertain Where the Next WindBlows, Henie Onstad Kunstsenter, Høvikodden (2020-2021),There's No Such Thing as Solid Ground, Gropius Bau,Berlin (2020); Uncertain Where the Wind Blows, Henie Onstad, Høvikodden, Norway (2020); From Where I Stand, MIMA, Middlesbrough, United Kingdom (2020); A Lapse, a Stain, a Fall, Ar/ge kunst, Bolzano (2018); To Dig a Hole that Collapses Again, MCA Chicago, Chicago (2018); Wetin You Go Do?, The Tanks at Tate Modern, Blavatnik Building, London (2017); The Encounter That Took a Part of Me, Kunsthal Aarhus, Aarhus (2017); The Encounter That Took a Part of Me, Nottingham Contemporary, Nottingham (2016); Diaoptasia, Tate Modern, London (2015); Comot Your Eyes Make I Borrow You Mine, Kadist Art Foundation, Paris (2015); Crumbling Through Powdery Air, Portikus, Frankfurt (2015).

Additionally, her work has been included in institutional group exhibitions such as KUB In Venice, Venice, Italy (2022); Our World is Burning, Palais deTokyo, Paris (2020); Seismic Movements, Dhaka Art Summit, Dhaka (2020); Amuse-Bouche. The Taste of Art, MuseumTinguely, Basel (2020); 58th International Art Exhibition - La Biennale di Venezia, Venice (2019); Sharjah Biennial 14: Leaving the Echo Chamber, Sharjah (2019); Artes Mundi 2018, National Museum Cardiff, Cardiff (2018); Cosmogonies, au gré des éléments, MAMAC, Nice (2018); General Rehearsal, Moscow Museum of Modern Art, Moscow (2018); Documenta 14, Athens (2017); I am a native foreigner, Stedelijk Museum Amsterdam (2017); Take Me (I'm Yours), Pirelli Hangarbicocca, Milan (2017); Dialogues, Manifesta – The European Biennial of Contemporary Art, Amsterdam (2017); Life Itself, Moderna Museet, Stockholm (2016); Museum on/off, Centre Pompidou, Paris (2016); 13th Biennale de Lyon, La vie moderne, Lyon (2015).
CV
Solo Exhibitions
2023
Gently Basking in Debris, Frist Art Museum, Nashville, USA
2022
Underneath the Shade We Lay Grounded, Sint-Janshospiltaal, Bruges, Belgium
Togethering featuring Oroma Elewa, Bill Kouélany, Obi Okigbo, Adeola Olagunju, Galerie In Situ - Fabienne Leclerc, Romainville, France
2021
Otobong Nkanga, Mendes Wood DM, São Paulo, Brazil
Otobong Nkanga, Kunsthal Bregenz, Bregenz, Austria
When Looking Across the Sea, Do you Dream?, Villa Arson, Nice, France
Otobong Nkanga. Of Cords Curling Around Mountains, Castello di Rivoli, Turin, Italy
Lingering on the Rim II, Lumen Travo Gallery, Amsterdam, The Netherlands
2020
Uncertain Where the Next Wind Blows, Henie Onstad Kunstsenter, Høvikodden, Norway
There's No Such Thing as Solid Ground, Gropius Bau, Berlin, Germany
From Where I Stand, MIMA, Middlesbrough, United Kingdom
2019
Acts at the Crossroads, Zeitz MOCAA, Cape Town, South Africa
From Where I Stand, Tate St. Ives, Saint Ives, United Kingdom
2018
A Lapse, a Stain, a Fall, Ar/ge Kunst, Bolzano, Italy
Otobong Nkanga: To Dig a Hole that Collapses Again, MCA Chicago, Chicago, USA
Transition, Mendes Wood DM, Brussels, Belgium
2017
The Breath from Fertile Grounds, Temple Bar Gallery + Studios, Dublin, Ireland
The Encounter That Took a Part of Me, Kunsthal Aarhus, Aarhus, Denmark
2016
The Encounter That Took a Part of Me, Nottingham Contemporary, Nottingham, United Kingdom
Cracks Around The Corner, Galerie In Situ - Fabienne Leclerc, Paris, France
MATRIX 260, University of California, BAMPFA, Berkeley, USA
Landversation Beirut, Beirut Art Center, Beirut, Lebanon
Landversation Beirut, Beirut Art Center, Shanghai, China
2015
Wetin You Go Do?, The Tanks at Tate Modern, Blavatnik Building, London, United Kingdom
Fragments, Lumen Travo Gallery, Amsterdam, The Netherlands
Diaoptasia, Tate Modern, London, United Kingdom
Bruises and Lustre, M HKA, Antwerp, Belgium
Comot Your Eyes Make I Borrow You Mine, Kadist Art Foundation, Paris, France
Crumbling Through Powdery Air, Portikus, Frankfurt, Germany
Unisono 28: Otobong Nkanga Taste of a Stone, Stedelijk Museum Schiedam, Schiedam,The Netherlands
Tracing Confessions, Museum Folkwang, Essen, Germany
2012
However long the night, the dawn will break, Lumen Travo Gallery, Amsterdam, The Netherlands
Contained Measures of Tangible Memories: Indigo Regina, L'appartement 22, Rabat, Morocco
2010
L'Édition Populaire #1, Vitrinegalerij, Antwerp, Belgium
No Be Today Story O!, Lumen Travo Gallery, Amsterdam, The Netherlands
2009
Pointe Noire Fragments, Centre Culturel Français, Pointe Noire, République du Congo
2008
Baggage 1972.2007/08, Kunsthalle Bern, Bern, Switzerland
Baggage 1972.2007, De Appel, Amsterdam, The Netherlands

Group Exhibitions
2023
Recent Acquisitions and Eternal Loves - Part I, Nicoletta Fiorucci Collection, Monaco, Monaco
2022
Nature Humaine, Fondation Vincent van Gogh, Arles, France
Devenir Fleur, MAMAC, Nice, France
Finis Terrae, Galerie Geukens & De Vil, Antwerp, Belgium
Territories of Waste, Museum Tinguely, Basel, Switzerland
We, on the Rising Wave, Busan Biennale 2022, Busan, South Korea
When Faith Moves Mountains, PinchukArtCentre, Kyiv, Ukraine
Globalisto – A philosophy in flux, MAMC+, Saint-Étienne, France
Black Melancholia, Hessel Museum of Art, New-York, USA
Temporary Atlas - Mapping the Self in the Art of Today, MOSTYN, Llandudno, United Kingdom
Silent Land, Lumen Travo Gallery, Amsterdam, The Netherlands
Les Portes du Possible, Centre Pompidou-Metz, Metz, France
Atlante Temporaneo, Cartografie del sé nell'arte di oggi, Fondazione Imago Mundi, Treviso, Italy
Progetto Genesi: Art and Human Rights, Museo Archeologico Regionale "Pietro Griffo"/ Biblioteca Lucchesiana, Agrigento, Italy
Botanischer Wahnsinn - Plant Thinking in Contemporary Art, Kröller-Müller Museum, Otterlo, The Netherlands
Currency: Photography Beyond Capture, 8th Triennal of photography Hamburg, Hamburg, Germany
In/stasis, Artists Space, New York, USA
Novacène - Lille 3000 / Utopia, Gare Saint Saveur, Lille, France
Consume By, Museum Arnhem, Arnhem, The Netherlands
Screen Time - Photography and Video Art in the Internet Age, Princeton University Art Museum, Princeton, USA
Otobong Nkanga and Anna Boghiguian, KUB In Venice, Scuola di San Pasquale, Venice, Italy
Progetto Genesi: Art and Human Rights, Museo Nazionale di Matera - Palazzo Lanfranchi / Casa Noha, Matera, Italy
The Art of Teaching and Learning. A School for Creators, Centre Pompidou-Metz, Metz, France
Screen Time: Photography and Video Art in the Internet Age, Samek Art Museum, Lewisburg, USA
Tomorrow is a different day, Stedelijk Museum, Amsterdam, The Netherlands
Hurting and Healing: Let's Imagine a Different Heritage, Tensta Konsthall, Spånga, Sweden
Belonging, European Investment Bank, Bourn Vincent Gallery, Limerick, Ireland
Moving Stories, de rijkdom van de Limes, Museum Het Valkhof, Nijmegen, The Netherlands
2021
Progetto Genesi: Art and Human Rights, Museo Diocesano e Cripta di San Rufino / Chiesa di Santa Croce, Assisi, Italy
Inaspettatamente, Cloud Seven, Brussels, Belgium
All Eyes, AkzoNobel Art Foundation, Amsterdam, The Netherlands
Witch Hunt, Hammer Museum, Los Angeles, USA
Transport Commun - Collective Transport: Part 2: Common presence, Collection d'Art Sociéte Générale, Puteaux, France
Progetto Genesi: Art and Human Rights, Villa e Collezione Panza, Varese, Italy
Frequently the woods are pink, Be-Part, Waregem, Belgium
Delinking and Relinking, Stedelijk Van Abbemuseum, Eindhoven, The Netherlands
Un.e Air.e de Famille, Musée d'Art et d'Histoire Paul Eluard, Saint-Denis, France
Van Coo naar Kunst, Mu.ZEE, Ostende, Belgium
Black Refractions – Highlights from the Studio Museum in Harlem, Frye Art Museum, Seattle, USA
Black Refractions – Highlights from the Studio Museum in Harlem, UMFA, Salt Lake City, USA
Hearts and Minds, Carriage Trade gallery, New York, USA
Lipstick and Gas Masks, M HKA, Antwerp, Belgium
Memoria: récits d'une autre Histoire, FRAC Nouvelle-Aquitaine MÉCA, Bordeaux, France
Into Nature, Stichting Kunst and Cultuur, Zwartemeer, The Netherlands
Secrets of making: Artists and designers in the TextielLab, TextielMuseum, Tilburg, The Netherlands
Reclaiming Places, La Loge, Brussels, Belgium
The Botanical Revolution, Centraal Museum, Utrecht, The Netherlands
The World As We Don't Know It, Droog, Amsterdam, The Netherlands
We Are History, Somerset House, London, United Kingdom
Nothing is Lost. Art and Matter in Transformation, GAMeC, Bergamo, Italy
Experiences of Oil, Stavanger Art Museum, Stavanger, Norway
Monts Analogues, FRAC Champagne-Ardenne, Reims, France
Is it possible to be a revolutionary and like flowers?, Nest, Den Haag, The Netherlands
2020
Collector's Item: the collection of contemporary art by Pieter and Marieke Sanders, Centraal Museum Utrecht, Utretcht, The Netherlands
Protext!, Centro Pecci, Prato, Italy
Nuit Blanche, Esplanade Gaston-Monnerville, Paris, FranceKunstenfestivaldesarts - The Diasporic Schools, Brussels, Belgium
Garden of Time - Textiles as Nature Poem, Mendes Wood DM, online
SAY IT LOUD, Bonnefantenmuseum, Maastricht, The Netherlands
Love Among The Artists, Netwerk Aalst, Aalst, Belgium
Global(e) Resistance, Centre Pompidou, Paris, France
Restons Unis - Grands Soirs et Petits Matins, Galerie Perrotin, Paris, France
Mirrors of Time, Kasteel d'Aspremont-Lynden, Oud-Rekem, Belgium
L'Heure Bleue, Gallery Sofie Van de Velde / Plus One Gallery, Antwerp, Belgium
Critical Zones - Observatories for Earthly Politics, ZKM, Karlsruhe, Germany
Stories and Poems - Otobong Nkanga, Thierry Oussou and Daniel de Paula, Amsterdam Art Gallery at Capital C, Amsterdam, The Netherlands
The Future is Female - Love Letters, CODA Museum, Apeldoorn, The Netherlands
Our World is Burning, Palais de Tokyo, Paris, France
Construção, Mendes Wood DM, São Paulo, Brazil
Seismic Movements, Dhaka Art Summit, Dhaka, Bangladesh
Amuse-Bouche - The Taste of Art, Museum Tinguely, Basel, Switzerland
Black Refractions – Highlights from the Studio Museum in Harlem, Smith College Museum of Art, Northampton, USA
2019
Les restes, K.I.P., Reliure cc, Puurs-Sint-Amands, Belgium
Collectionner au XXIème siècle, Collection Lambert, Avignon, France
La Mesure du Monde, MRAC, Sérignan, France
Stop, Galerie In Situ - Fabienne Leclerc, Romainville, France
Every leaf is an eye, Göteborgs Konsthall, Göteborg, Sweden
Gaïa, que deviens tu?, Guerlain FIAC, Guerlain House, Paris, France
Salon de Peinture, M HKA, Antwerp, Belgium
Black Refractions – Highlights from the Studio Museum in Harlem, Kalamazoo Institute of Arts, Kalamazoo, USA
Art & Diplomacy, Ministry of Foreign Affairs, Kingdom Belgium, Egmont Palace, Brussels, Belgium
Il était une fois le paysage - Parcours métropolitain d'Art Contemporain, Galerie de l'Usine Électrique, Allauch, France
Fragile Earth: seeds, weeds, plastic crust, MIMA, Middlesbrough, United Kingdom
IncarNations, African Art as Philosophy, BOZAR, Brussels, Belgium
Homeless Souls, Louisiana Museum of Modern Art, Humblebæk, Denmark
Hand Drawn, Action Packed, Glynn Vivian Art Gallery, Swansea, United KingdomStarke Stücke – Feminisms and Geographies, Metz, Stadt Galerie Saarbrücken, Saarbrücken, Germany
Black Refractions – Highlights from the Studio Museum in Harlem, Gibbes Museum of Art, Charleston, USA
May you live in interesting times, 58th International Art Exhibition - La Biennale di Venezia, Venice, Italy
Coexistence – Human, Animal and Nature in Kiasma's Collections, Kiasma Museum of Contemporary Art, Helsinki, Finland
13th Bienal de La Habana – La Construcción de lo Posible, Centro de Arte Contemporáneo Wifredo Lam, Havana, Cuba
Sharjah Biennial 14: Leaving the Echo Chamber, Sharjah, United Arab Emirates
Perilous Bodies, Ford Foundation Gallery, New York, USA
Salle de Maquettes, Galerie de l'UQAM, Montreal, Canada
A World View, Toowoomba Regional Art Gallery, Toowoomba, Australia
Hand Drawn, Action Packed, Hunterian Museum and Art Gallery, Glasgow, United Kingdom
Black Refractions – Highlights from the Studio Museum in Harlem, The Museum of the African Diaspora, San Francisco, USA
A World View, Gympie Regional Gallery, Gympie, Australia
2018
Hand Drawn, Action Packed, Wolverhampton Art Gallery, Wolverhampton, United Kingdom
Cultural Threads, Textiles as a tool for socio-political reflection, Textiel Museum, Tilburg, The Netherlands
Artes Mundi 8, National Museum Cardiff, United Kingdom
Laid Bare in the Landscape, Nevada Museum of Art, Reno, USA
A World View, Cairns Art Gallery, Cairns City, Australia
Hand Drawn, Action Packed, St Albans Museums and Galleries Trust c/o Verulamium Museum, Albans, United Kingdom
A World View, Gold Cast City Gallery, Gold Coast, Australia
Propositions #6, Basis Voor Actuele Kunst, Utrecht, The Netherlands
Cosmogonies, au gré des éléments, MAMAC, Nice, France
Talisman In The Age Of Difference, Stephen Friedman Gallery, London, United Kingdom
Take Me (I'm Yours), Villa Médicis - Académie de France à Rome, Rome, Italy
Propositions #5, Kunstenfestivaldesarts, Brussels, Belgium
First Person Plural : Empathy, Intimacy, Irony, and Anger, BAK, Utrecht, The Netherlands
General Rehearsal, MMOMA, Moscow, Russia
Common Ground, AkzoNobel Art Space, Amsterdam, The Netherlands
Muralnomad, Le Quadrilatère, Beauvais, France
FIAC Cinéphémère, Fondation d'entreprise Ricard, Paris, France
From where I stand, my eye will send a light to you in the North, Te Tuhi Centre for the Arts, Auckland, New Zealand
A World View, Perc Tucker Regional Gallery, Townsville, Australia
Blind Faith, Haus Der Kunst, Munich, Germany
Artefact 2018, STUK – House for Dance, Leuven, Belgium
20 years NICC Jubilee, NICC, Antwerp, Belgium
Nous ne sommes pas le nombre que nous croyons être, Bétonsalon – Centre d'Art et de recherche, Cité internationale des Arts, Paris, France
Naturel pas Naturel, Palais Fesch/Musée des Beaux-Arts, Ajaccio, Corsica, France
2017
Colori, Castello Di Rivoli, Torin, Italy
Neither., Mendes Wood DM, Brussels, Belgium
Beautiful Africa, La Galerie du 5e, Marseille, France
Kairos Castle, Kastell Van Gaasbeek, Gaasbeek, Belgium
Belgian Art Prize 2017, BOZAR, Brussels, Belgium
L'île aux Mythes - Souvenir de Mwene Mutapa, La Box - École nationale supérieure d'art de Bourges, Bourges, France
Lives Between, Kadist Art Foundation, San Francisco, USA
When the Heavens Meet the Earth, The Heong Gallery, Cambridge, United Kingdom
Stimulants: Circulation and Euphoria, Tabakalera, San Sebastian, Spain
En toute modestie, MIAM, Sète, France
En marge, Galerie In Situ - Fabienne Leclerc, Paris, France
The Collection, M HKA, Antwerp, Belgium
Tous, des sang-mêlés, MAC/VAL, Vitry-Sur-Seine, France
El Iris de Lucy, CAAM, Las Palmas, Spain
Manipulate the World, Moderna Museet, Stockholm, Sweden
Voices, The Tanks at Tate Modern, Blavatnik Building, London, United Kingdom
Ouvert la Nuit, Villa Médicis – Académie de France à Rome, Rome, Italy
Envision 2116, Shanghai Project Phase 2 - Seeds of Time, Shanghai Himalayas Museum, Shanghai, China
Take Me (I'm Yours), Pirelli HangarBicocca, Milan, Italy
Dada Africa, Musée de L'Orangerie, Paris, France
Propositions #1: What we Mean, BAK, Utrecht, The Netherlands
Être pierre, Musée Zadkine, Paris, France
Musée en Œuvre(s), Centre Pompidou, Paris, France
Lives Between, CCA at the Rachel & Israel Pollak Gallery, Tel Aviv, Israel
A World View, Gladstone Regional Gallery & Museum, Gladstone, Australia
Action!, Kunsthaus Zürich, Zürich, Switzerland
M HKA Heropent – Reopens - Reouvre, M HKA, Antwerp, Belgium
I am a native foreigner, Stedelijk Museum, Amsterdam, The Netherlands
Ecce Homo - Zie de mens, Sint-Joriskerk, Antwerp, Belgium
Carved to Flow, Documenta 14, Moschato, Athens
The Absent Museum, Wiels Centre D'Art Contemporain, Brussels, Belgium
Dialogues, Manifesta – The European Biennial of Contemporary Art, Amsterdam, The Netherlands
Carriers, Documenta 14, Athens, Greece
Contour Biennale 8 - Polyphonic worlds: justice as medium, Mechelen, Belgium
2016
Life Itself, Moderna Museet, Stockholm, Sweden
Take Me (I'm Yours), Kunsthal Charlottenborg, Copenhagen, Denmark
The Amsterdam Trail, Lumen Travo Gallery, Amsterdam, The Netherlands
Museum on/off, Centre Pompidou, Paris, France
Beyond 2º, Museum of Contemporary Art Santa Barbara, Santa Barbara, USA
Territorial Drift, Garage Rotterdam, Rotterdam, The Netherlands
El iris de Lucy, MUSAC, León, Spain
Sonsbeek'16, Museum Arnhem, Arnhem, The Netherlands
Le temps de l'audace et de l'engagement – De leur temps (5), Institut D'Art Contemporain, Villeurbanne, France
Lucy's Iris, Musée Départemental D'Art Contemporain de Rochechouart, Rochechouart, France
Kaleidoscope, Modern Art Oxford, Oxford, United Kingdom
Extracted, University of South Florida Contemporary Art Museum, Tampa, USA
Envision 2116 - Shanghai Project Phase 1, Shanghai Himalayas Museum, Shanghai, China
Laboratoire Espace Cerveau, Institut D'Art Contemporain, Villeurbanne/Rhône-Alpes, Villeurbanne, France
Georges Adéagbo and Otobong Nkanga, Lumen Travo Gallery, Amsterdam, The Netherlands
A World View, Queensland Art Gallery / Gallery of Modern Art, South Brisbane, Australia
Répétition, Boghossian Foundation, Brussels, Belgium
Vigies and Co, Centre d'Art Ville de Dudelange Dominique Lang Nei Liicht, Dudelange, Luxembourg
11th Gwangju Biennale, The Eighth Climate (What Does Art Do), Gwangju, South Korea
Still (the) Barbarians, EVA International - Ireland's Biennial, Limerick, Ireland
The future is already here - It's just not evenly distributed, 20th Biennale of Sydney, Sydney, Australia
2015
Excavating the Contemporary, Jewish Historical Museum, Amsterdam, The Netherlands
Speaking Back, Goodman Gallery, Cape Town, South Africa
European Ghosts, MU.ZEE, Oostende, Belgium
Take Me (I'm Yours), Monnaie de Paris, Paris, France
15 Rooms, Long Museum West Bund, Shanghai, China
Earth Matters, Bowdoin College Museum of Art, Brunswick, USA
Last Sighting, DAAD Galerie, Berlin, Germany
Streamlines, Haus der Photographie, Hamburg, Germany
Material Effects, Eli and Edythe Broad Art Museum, Lansing, USA
13th Biennale de Lyon, La vie moderne, Lyon, France
2014
Harvest, Queensland Art Gallery / Gallery of Modern Art, South Brisbane, Australia
Landings: Confrontation and Confession, Stedelijk Museum Amsterdam, Amsterdam, The Netherlands
Foreign Exchange, Weltkulturen Museum, Frankfurt, Germany
Animism, Ashkal Alwan, Beirut, Lebanon
Aerial Views, Lumen Travo Gallery, Amsterdam, The Netherlands
Earth Matters, Fowler Museum at UCLA, Los Angeles, USA
Contained Measures of a Kolanut, Szalon, Logan Center Gallery, Chicago, USA
Collection Permanente, RAW Material Company - Center for art, knowledge and society, Dakar, Senegal
Meeting Point II, Lumen Travo Gallery, Amsterdam, The Netherlands
How to (…) things that don't exist, 31st Bienal Internacional de São Paulo, Brazil
8th Berlin Biennale, KW, Berlin, Germany
Giving Contours to Shadows, SAVVY Contemporary, Berlin, Germany
Glimmer: Fragments in Landings: Confrontation and Confession, Stedelijk Museum, Amsterdam, The Netherlands
Diaspore, Live performance at 14 Rooms, Basel, Switzerland
2013
Berliner Herbstsalon, Palais Am Festungsgraben / Maxim Gorki Theater, Berlin, Germany
Ja natuurlijk, Gemeentemuseum Den Haag, Den Haag, The Netherlands
Earth Matters, National Museum of African Art, Washington DC, USA
Shared singularities, Centre D'Art Contemporain, Montreuil, France
La Mia Scuola di Architettura, Ar/ge Kunst, Bolzano, Italy
Das Jubiläumsfestival, Akademie der Künste, Berlin, Germany
Animism, OCAT - OCT, Shenzhen, China
PLAY! Recapturing The Radical Imagination, Göteborg International Biennial For Contemporary Art, Göteborg, Sweden
Re: emerge, Towards a New Cultural Cartography, Sharjah Biennial 11, Sharjah, United Arab Emirates
2012
We Face Forward, Whitworth Art Gallery, Manchester, United Kingdom
Partitions Performances, Fondation d'entreprise Ricard, Paris, France
Object Atlas, Weltkulturen Museum, Frankfurt, Germany
Groupshow, Lumen Travo Gallery, Amsterdam, The Netherlands
Tropicomania: the social life of plants, Bétonsalon – Center for Art and Research, Paris, France
De Nederlandse identiteit?, Museum De Paviljoens, Almere, The Netherlands
Trading Style, Weltkulturen Museum, Frankfurt, Germany
Across the board: Politics of Representation, The Tanks At Tate Modern, London, United Kingdom
Shuffling Cards, Art-Cade – Galerie Des Grands Bains Douches De La Plaine, Marseille, France
Manifest Aanwezig, Kasteel D'Aspremont-Lynden, Oud-Rekem, Belgium
Inventing the World: The artist as Citizen, Biennale Regard Benin 2012, Cotonou, Benin
Reactivation, 9th Shanghai Biennale, Shanghai, China
Contained Measures of Shifting States, Tate Modern, London, United Kingdom
2011
All We Ever Wanted, CCA, Lagos, Nigeria
África. Objetos y Sujetos, Centro de Expositiones Fernán Gómez, Madrid, Spain
The Western Syndrome (with Pirkle Jones), La B.A.N.K Galerie, Paris, France
Connect, Lumen Travo Gallery, Amsterdam, The Netherlands
Summer Show, Lumen Travo Gallery, Amsterdam, The Netherlands
The Collectors Show, Stedelijk Van Abbemuseum, Eindhoven, The Netherlands
MärklinWorld, Kunsthal KAdE, Amersfoort, The Netherlands
The Altered Landscape, Nevada Museum of Art, Reno, USA
Don't/Panic, Durban Art Gallery, Durban, South-Africa
Outre mesures et programmes radio, La Galerie – Centre D'Art Contemporain, Noisy-Le-Sec, France
Faites Comme Chez Vous, Raw Material Company – Center For Art, Knowledge and Society, Dakar, Senegal
ARS 11, Kiasma Museum of Contemporary Art, Helsinki, Finland
2010
África. Objetos y Sujetos, El Centro Cultural Cajastur Palacio Revillagigedo, Gijon, Spain
Une Aiguille dans une Botte de Foin, Musée Du Quai Branly – Jacques Chirac, Paris, France
Animism, Extra City Kunsthal, Antwerp, Belgium
Common Ground, Nieuw Dakota, Amsterdam, The Netherlands
Animism, Kunsthalle Bern, Bern, Switzerland
Whose Map is it?, INVIVA, London, United Kingdom
Festival Theaterformen, Staatstheater Großes Haus, Braunschweig, Germany
World Festival of Black Arts and Culture, Dakar, Senegal
Make Yourself at Home, Kunsthal Charlottenborg, Copenhagen, Denmark
Unfixed, CBK, Dordrecht, The Netherlands
De kunstenaar en zijn collectie – Harald Schole & Harold Schouten, Arti et Amicitiae, Amsterdam, The Netherlands
The Production of Space, The Studio Museum in Harlem, New York, USA
Sentences on the banks and other activities, The Khalid Shoman Foundation – Darat al Funun, Amman, Jordan
A Proposal for Articulating Works and Places, RISO - Museo D'Arte Contemporaneo della Sicilia, Palermo, Italy
Body Language, Lumen Travo Gallery, Amsterdam, The Netherlands
There is always a cup of sea to sail in, 29th Bienal Internacional de São Paulo, São Paulo, Brazil
2009
Isomopolis, Établissement d'en face projects, Brussels, Belgium
I Want to be Famous, Galerie Nomad, Brussels, Belgium
Autres Mesures, Centre Photographique D'Île de France, Pontault-Combault, France
A Delicate Touch, The Studio Museum in Harlem, New York, USA
Diagonal Views, Nieuwe Vide, Haarlem, The Netherlands
Roots and Routes, Galerie Sanaa, Utrecht, The Netherlands
Arts in Marrakech, 3rd AiM International Biennale, Marrakech, Morocco
This is now, 2, L'Appartement 22, Rabat, Morocco
2008
Flow, The Studio Museum in Harlem, New York, USA
Snap Judgments, Memphis Brooks Museum of Art, Memphis, USA
This is now, 1, Sandton Convention Centre, Johannesburg, South Africa
Snap Judgments, Stedelijk Museum Amsterdam, Amsterdam, The Netherlands
Re/Presentaciones. Ellas, Casa Africa, Las Palmas, Spain
Delight, Arti Et Amicitiae, Amsterdam, The Netherlands
2007
Snap Judgments, National Gallery of Canada, Ottawa, Canada
Simmels Gelijk, NDSM-Shipyard, Amsterdam, The Netherlands
Africa Remix, Johannesburg Art Gallery, Johannesburg, South Africa
Allan Kaprow, Kunsthalle Bern, Bern, Switzerland
Snap Judgments, Museo Tamayo Arte Contemporaneo, Mexico City, Mexico
2006
Shared History, Arti Et Amicitiae, Amsterdam, The Netherlands
Snap Judgments, ICP, New York, USA
Snap Judgments, Miami Art Central, Miami, USA
There and Back: Africa, La Casa Encendida, Madrid, Spain
Générique, Galerie 14, Paris, France
Africa Remix, Mori Art Museum, Tokyo, Japan
Africa Remix, Moderna Museet, Stockholm, Sweden
De Grote Oversteek, Stedelijk Museum Zwolle, MB Zwolle, The Netherlands
Fußball, Münchner Stadtmuseum, München, Germany
Triennale de Luanda, Luanda, Angola
Arrested Moment before the State of Amnesia crops in, 21st Biennial of Architecture and Landscape, Fuerteventura, Canary Islands, Spain
2005
African Remix, Centre Pompidou, Paris, France
Heal the world, The Third Line, Dubai, United Arab Emirates
Belonging, Sharjah International Biennial 7, Sharjah, United Arab Emirates
North / South Lab, Tanzquartier Wien, Vienna, Austria
Africa Remix, Hayward Gallery, London, United Kingdom
2004
Women Artists from Africa Nº4, Galerie Peter Hermann, Berlin, Germany
Epifyten, De klassieke Hortus als voedingsbodem voor hedendaagse kunst, Hortus Botanicus, Amsterdam, The Netherlands
Africa Remix, Museum Kunstpalast, Düsseldorf, Germany
Flash Right, Turn Left, Stiching Artwalk, Amsterdam, The Netherlands
Smokescreen, Fokus 2 (avec Jens Haaning), Kunstverein & Stiftung Springhornhof, Neuekirchen, Germany
Flying Circus Project 04, The Black Box, Fort Canning Center, Singapore, Singapore
Do You Believe in Reality?, 2004 Taipei Biennial, Taipei, Taiwan
Free Territory, 26th Bienal Internacional de São Paulo, São Paulo, Brazil
On Fragile Grounds, Objectif Exhibitions, Antwerp, Belgium
2003
Fractured Gaps, Rijksakademmie Van Beeldende Kunsten, Amsterdam, The Netherlands
MIP, Center of Experimentation and Information in Art - Casa do Conde de Santa Marinha, Belo Horizonte, Brazil
Transferts, BOZAR, Brussels, Belgium
El Arte Con La Vida, 8th Havana Biennial, Havana, Cuba
2002
Observatorio #3, Camouflage, The European satellite of the Centre of Contemporary Art of Africa, Brussels, Belgium
Awaiting Pleasures, Rijksakademmie Van Beeldende Kunsten, Amsterdam, The Netherlands
Observatorio #1, Camouflage, The European satellite of the Centre of Contemporary Art of Africa, Brussels, Belgium
En Direct de Bamako, FNAC Étoile, Paris, France
Dessins XXL, Le Lieu Unique, Nantes, France
Bomboyi, Institut Français à Kinshasa - Halle de la Gombé, Kinshasa, Kinshasa, Congo
Fotofest 2002: Classicism & Beyond, Project Row Houses, Houston, USA
Dak'Art 2002, 5th Biennale of African Contemporary Art, Dakar, Senegal
Made in Africa Fotografia 2002, 1st Biennale di Fotografia Africana, Milan, Italy
2001
Mémoires intimes d'un nouveau millénaire, 4th Biennale de Bamako, Mali
1999
Toxic, Château D'Oiron, Oiron, France

Public Collections
AkzoNobel Collection
American Embassy Abuja
Art Gallery of Onterio
Belgian Embassy Madrid
Bonnefantenmuseum
Centre National des Arts Plastiques
Centre Pompidou
Collection Arte & Naturaleza
Collection Départementale d'Art Contemporain de la Seine-Saint-Denis
DasArts, Academy of Theatre and Dance
Denver Art MuseumEmerige
European Investment Bank (EIB)
Federale Overheidsdienst Buitenlandse Zaken
Fondation Beyler
Kanal Pompidou
Musea Brugge
Musée d'Art Moderne de Paris
Museum Folkwang
FRAC Corse
FRAC des Pays de la Loire
FRAC Ile-de-France
FRAC Lorraine
FRAC Nouvelle-Aquitaine MÉCA
FRAC Provence Alpes Côte d'Azur
Instituto Inhotim
M HKA
Hessel Museum of Art
Henie Onstad Kunstsenter
Jean Claude Bastos Foundation
Kadist Art Foundation
Museum of Contemporary Art Kiasma
Máxima Medisch Centrum
MIMA
Museum Arnhem
Museum Hedendaagse Kunst De Domijnen
Mu.ZEE
Museum Folkwang
Nevada Museum of Art
Queensland Art Gallery / Gallery of Modern Art
Rabo Art Collection
Robeco Art Collection
Castello di Rivoli
Fondation Sindika Dokolo
SAM ART Projects
Sharjah Art Foundation
Société Genérale Art Collection
Stedelijk Museum Amsterdam
Stedelijk Museum Zwolle
Stedelijk Museum Arnhem
Stedelijk Van Abbemuseum
Stichting Vrienden van het Hart
The Studio Museum in Harlem
Swiss Institute / Contemporary Art
Tate Modern
THE EKARD COLLECTION
Collectie Vlaams Parlement
Collectie Vlaamse Gemeenschap
Weltkulturen Museum